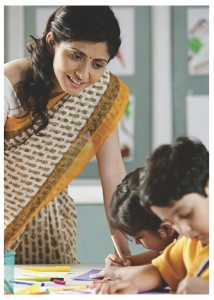 Everyone at Hindustan International School is dedicated to the cause of learning and the betterment of our students. Both scholastic and non-scholastic teachers are well experienced in their relevant fields. The school is led by an extremely talented team of teachers. And talent is not the only attribute they possess. Each one of our teachers has an innate passion, not just to teach, but also to learn.
Our teachers are experienced in their chosen field of specialization, in flexibility, in commitment and in motivational skills. And they realize this passion by engaging with the young people, being with them, living their lives, understanding them, before making them understand the lessons of life.
The school also strongly believes in developing its teachers and encouraging them to enhance their skills, to which end, the school conducts in-house training programs to share best practices and arranges experts to run workshops. They are also trained to use the technology available to them in the classrooms and labs to enhance the students' learning.